Instructors
David West
Teaching: Piano, Voice, Guitar and Bass Lessons at his Home Studio in Nashua, NH.
David has been involved in music study and performance for over 40 years and has been an instructor for over 30 years.


Piano Studies
New England Conservatory of Music Extension Division... Four years of Private Jazz Piano and Improvisation study with Professor Bruce Torff of the New England Conservatory of Music ED. New England Conservatory Jazz Ensemble Intensive jazz music performance study at New England Conservatory with Professor Michael Taylor... under the tutelage of Professor Bruce Torff.
Voice Studies
Music is Art Agency... Studied Voice Pedagogy with New England Conservatory graduate and instructor Barbara Morash for 6 years, at Music is Art Agency. David has also performed solo performances, shows and recitals representing Barbara and the Music is Art Agency.
Guitar Studies
Berklee College of Music extension school... Specialist Certificate in Guitar Skills.
Guitar Chord Studies with world renowned Berklee Professor Rick Peckham. The following are quotes from Professor Rick Peckham taken from his online discussion with the chords class: "David's been a real contributor to the success of the class, which, I must say, has been one of the most vibrant sections I've ever had." "Dave you are a natural teacher... patient, methodical and, most importantly, you can back it up!" "David, Thank you for this handy addition--the first pdf posted by a Chords 101 participant in the course's two year history. I'm sure that it will help a lot of people to get these shapes under control."
Guitar Scale Studies with Berklee Professor and New England Conservatory Graduate Larry Baione.. also head of the Berklee College of Music Guitar Dept. Following are some quotes by Professor Larry Baione, taken from David's graded assignments: "David, very enjoyable listening to you. Nice paraphrasing of some melody of the bossa. Excellent sound. The G piece sounded excellent." "David- the scales are right on- legato and very in tune with the tempo. Good job on the melody. David- you did exactly what I was looking for...very very nice!! Your solo really reflected the tunes." "Excellent playing David... the melody is not easy... very well played. You solo as if you have been playing the tunes for sometime." "David- you nailed the melody. I really like your solo starting with those repeated... and restating that phrase....not all of your solo is blues scale... very enjoyable and strong soloing."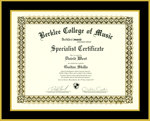 Guitar Improvisation Studies with Berklee Graduate and Professor Ed Tomassi. Following are some quotes by Professor Ed Tomassi, again taken from David's graded assignments: "Very good musical solo on assignment 1.2. Great use of phrasing! Most of the time you used repetition and that gives the solo unity... Nice guitar sound!... Good work." "Wow!!!! Fantastic job with the challenge assignment trombone transcription!!!!!!!... You sounded great! All of your pitches and rhythms were accurate!... I really liked this solo on guitar... Keep up the fantastic job." "Very good AAA riff and AAB lyric melody!!! Great use of repetition on your solos and good contrasting rhythms... Nice guitar sound too." "I really enjoyed your Harmonic Riff melody and solo. You sound very musical and organized. Nice use of rhythmic displacement - syncopation!... Great Job!" "Excellent job with assignment 7!!! You know the chord tones and very good job with voice leading... Fantastic! I am enjoying your new level of musicianship!!!" "Great work on the challenge assignment!!! Excellent job going to different chord tones and scale notes. Your written chart is great!... Excellent job, good legato playing. Excellent job with assignment 10 chromatic approaches to chord tone motives!!!!!!! You did a really good job following directions and sticking to the concepts. Good discipline!. Fantastic job throughout this course. I have really enjoyed working with you. My best to you with all of your musical ambitions!"
Online Jazz Guitar Program
Jimmy Bruno Guitar Institute David also studied three years online at the Jimmy Bruno Guitar Institute and uses jazz guitarist Jimmy Bruno's approach for teaching guitar theory and improvisation.
Private Guitar Studies
Three years of private Jazz Guitar study — One year of Jazz Guitar and guitar theory with Andrew Martin of Berklee College of Music. Also studied two years of Jazz Guitar with Don Pendleton of Saugus, Massachusetts focusing on jazz chord melodies.
Bass Studies
Three years of secondary Electric Bass study and performance. David began his Bass experience during his son Steven's many years of intense bass studies.
Contact David West directly at 603-438-1903
---
Jim West
Teaching Piano, Voice, Drums, Guitar in Manchester NH
Jim has been the owner and recording engineer of West Sound Studio for over 15 years. West Sound Studio is a 32 track digital recording studio, located in Londonderry/Manchester, NH.
Jim, a multitalented studio musician, also heads up New England Revival Records; a Christian record company serving Christian musicians from New England and beyond.
He has studied voice with Pamela Lefebre of the Boston Conservatory and also studies voice with Barbara Morash, a New England Conservatory trained instructor. Jim plays and teaches voice, keyboards drums and guitar. Jim has also recorded vocals on many CD's.
Contact Jim West directly at 603-438-6193
---
Bill West
Teaching Classical Guitar and Bass at his Private Studio in Tewksbury, MA

Bill has been engaged in the study, performance and instruction of the Guitar and Bass for over 28 years.
Bill's Music Studies
New England Conservatory of Music - Private Studies with Bill Urmson of the New England Conservatory of Music

Berklee College of Music - Private Studies with Prof. Bruce Gertz of Berklee College of Music

Boston Conservatory - Private Studies with Olav Chris Henricksen of the Boston Conservatory

Present Studies - Currently studying Classical Guitar with Steve Lin of the New England Conservatory of Music.

Boston Classical Guitar Society - Bill is now intensely involved in the study of the Classical Guitar and has developed a course curriculum for beginner through advanced students. Bill is a member of the Boston Classical Guitar Society.
Throughout the years Bill has developed a unique approach to understanding stringed instruments.

In addition, Bill is a regular studio and freelance musician.

Bill has also provided musical arrangements on numerous songs and albums throughout the years.

As a Christian, Bill frequently performs with the West Brothers and other Contemporary Christian Music groups.

View Bill's Classical Guitar Course Curriculum

Contact Bill West directly at (978) 404-9055
---
Bob West
Teaching Drums, Percussion, Guitar and Bass at his Home Studio in Londonderry, NH
Bob has been studying, performing and teaching drums/percussion for over 30 years.

Bob has a strong foundation in rudiments, reading and theory. He knows how to keep students interested, by constantly challenging and developing their rhythmic independence. He also does work as a freelance musician and studio drummer, as well as having played guitar and bass for a number of years.

Drum Studies
Four years of study with New England Conservatory graduate/instructor Chuck Stanton... studying the basic fundamentals along with the more advanced concepts and teaching methods, taught by the legendary Alan Dawson.

Four years of study with University of Massachusetts Music Performance graduate/instructor Jamie Manning, where he furthered his reading and coordination studies.

Many of his influences are: Dave Weckl, Steve Smith, Buddy Rich and Louise Belson. Also a local drummer by the name of Norman Ouellette was an influence in his early years.
Guitar/Bass Studies
Bob has studied and performed guitar and bass for over 30 years. He teaches using the Berklee Modern Guitar method.
Contact Bob West directly at 603-421-0847
---
Ask about our Comprehensive Music Studies Certificate Program through Associated Music Educators Institute - Work towards a certificate in music theory or performance as you take your regular private lesson classes!
Why take lessons for years and have nothing to show for it. Use our certificate to put on your resume, college entrance application, job application, or even your website. All of your completed assignments will be reviewed by AMEI's college trained Alumni Associates. Visit our Certification page for more info.
Our goal is to provide quality, practical training to our students, giving them the skills they need for performance, composition, improvisation, recording and a knowledgeable understanding of music and their instrument. All of our instruments are taught with emphasis on Scales (or rudiments), Harmony & Rhythm (chord theory and combined rhythms), Reading (sight reading and repertoire) Performance, and Improvisation.
We teach private lessons at our locations in Nashua, NH, Manchester, NH, Londonderry, NH and Tewksbury, MA.